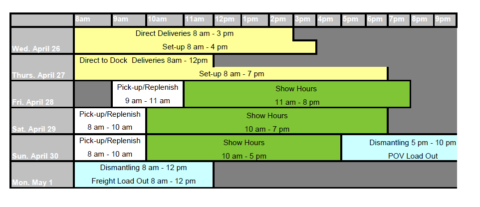 Click here to enlarge the_spring_schedule
DELIVERY HOURS/LOADING DOCK HOURS
Wednesday, April 26             8:00 am – 3:00 pm
Thursday, April 27                 8:00 am – Noon
*Any deliveries made outside these times will be subject to a charge of $55.00 per 100 lbs.
SET-UP HOURS
Wednesday, April 26               8:00 am – 4:00 pm (Loading Dock Closes at 3:00 pm)
Thursday, April 27                   8:00 am – 7:00 pm (Loading Dock Closes at Noon)
All exhibits must be set up by 7:00 pm on Thursday, April 27.  No construction, arranging, or setting up of exhibits, including deliveries or moving of products, are permitted during show hours.
NOTE: If you are unsure if your display requires labor, submit the Customization Order Form and our Operations Team will gladly respond.
Please note that display materials must adhere to Chicago Fire Department Rules and Regulations. If you require further information, please contact Megan Davidson at (312) 527-7514 or mdavidson@themart.com.
Exhibitors may hand-carry small items, but we ask that they refrain from using handcarts, flatbeds, or dollies.  Our Material Handling Staff is on hand to facilitate such moves.
SHOW HOURS
*Friday, April 28                       11:00 am – 8:00 pm
Saturday, April 29                    10:00 am – 7:00 pm
Sunday, April 30                       10:00 am – 5:00 pm
* Exhibitors will be allowed on the floor one hour prior to the show opening each day.  Jewelers will be allowed on the floor two hours prior to the show opening each day.
DISMANTLING HOURS
Sunday, April 30                        5:00 pm – 10:00 pm
Monday, May 1                          8:00 am – 12:00 pm
FREIGHT AND PERSONALLY OWNED VEHICLE (POV) LOAD OUT HOURS
Sunday, April 30                       5:00 pm – 10:00 pm
(POVs only)
The loading of POV's will begin upon the completion of the return of empties.  We strongly encourage local artists to return on Monday, May 1 to load their POV
Monday, May 1                         8:00 am – 12:00 pm (Common carriers must be checked in by 12:00 pm)
DISMANTLING PROCEDURES
Any artists breaking down their booth prior to the show closing (5:00 p.m. Sunday, April 30) will be fined $1000. Please arrange travel accordingly.
All booths must be left in a reasonable state that enables them to be easily repaired and repainted. All nails, Velcro, staples, paper or other materials applied to the booth walls must be removed prior to vacating the booth. Exhibitors will be assessed repair charges based on time and materials if they choose not to comply.
Please note that every effort to return empty boxes as quickly as possible at the close of the show will be made, but it may take several hours for all empty containers to be returned. Please make travel plans accordingly.
If bringing down merchandise from your booth during Load Out, please make sure that you have room in your vehicle for all merchandise. An hourly charge will be assessed to the artist for any merchandise that has to be returned to your booth because it does not fit.
OUTSIDE CONTRACTOR INFORMATION
You have the option of employing your own union labor to assist with the installation of your booth. If you choose to use the services of an outside contractor, please contact operations for Exhibitor Appointed Contractor Form.
CONTRACTOR GUIDELINES
Exhibitors who wish to employ EACs should make known to them the following guidelines:
The EAC shall be given the right to provide services requested of them by an exhibitor in set-up and dismantling on the show floor, and shall have the right to utilize qualified employees registered in advance.
Services shall not conflict with labor regulations or contracts including jurisdictions claimed by local labor unions. The EAC shall adhere to the rules and regulations in this manual.
The EAC shall possess a valid public liability and property damage insurance policy for at least $2,000,000. The certificate of insurance must name Merchandise Mart Properties, Inc., Merchandise Mart L.L.C., Vornado Realty Trust and Vornado Realty L.P. as additional insured.
The EAC shall have a true and valid work order from an exhibitor in advance of the show move-in date and shall not solicit business on the show floor or during move-in or move-out dates.
The EAC will share with MMPI all reasonable costs related to their operation including overtime pay for stewards, restoration of the exhibit space to its initial condition, etc.
The EAC shall cooperate fully with MMPI, especially with regard to the efficient utilization of labor.Any labor personnel working in your booth must be one of the following:
LABOR
Your own company personnel (depending on the type of work being done, union labor may be required). See Union Regulations for additional information.
Exhibitor appointed contractor. EACs must comply with guidelines regarding EACs. See Exhibitor Appointed Contractors for additional information.
To request MMPI Union Labor, please refer to the Installation and Dismantle Labor Form. Additional guidelines regarding Labor should be reviewed on this form.
All orders for dismantling labor must be confirmed no later than 10:00 am on Friday, April 28.
UNION REGULATIONS
Various unions claim jurisdiction over all set-up and dismantling of exhibits including carpentry, electrical and material handling to name a few.  Your personnel may work along with a union installer, if one is necessary.  Please contact Megan Davidson at (312) 527-7514 or mdavidson@themart.com for questions regarding union regulations.