MARKETING OPPORTUNITIES
MARKETING CAMPAIGN
The 2017 One of a Kind Spring Show Chicago is marketed via an aggressive attendee communications effort combining advertising, online marketing, outdoor marketing, direct mail and public relations, drawing an anticipated 30,000 attendees to artist booths at the show.
Communications include:
Show Postcards (with complimentary admission for 2) for artist use
"Promotional Stickers" template for artist use
Advertising in the Chicago Tribune and other key Chicago media
Show website with artist locator/image gallery feature
E-blast campaign to e-mail lists of 100,000 plus
Street banners throughout downtown Chicago
Public relations efforts focused on multi-media coverage including all important print, broadcast and online outlets
City-wide cultural partner outreach
Social media outreach including Facebook, Twitter, Instagram and Vimeo
ONLINE EXHIBITOR PROFILE
The Online Exhibitor Profile allows you to upload and update the information and images that attendees will see on the One of a Kind website. Your listing will appear under Artist locator page from which each one of our exhibiting artists will have their own artist profile with details, contact information and images. This is the most visited section on our website as shoppers will look to see who will be exhibiting at the show. It is very important to have correct information and fresh images on your Online Exhibitor Profile because this information often turns into pre-show and post-show sales.
Upon contracting, each artist was assigned a personal ID and password.
Feel free to contact Aida Sarvan at 312.527.7933 or asarvan@themart.com with any questions or concerns. You can access the Artist Website at http://mmpimodularapp.com/exhibitor/.
MARKETING MATERIALS FOR ARTISTS
Soon after contracting with the show, you should have received a shipment with 100 Show Postcards with complimentary admission for 2 people.
These are for your distribution/mailing to clients and prospects and will help you promote your presence at the One of a Kind Spring Show. Additional materials may be available. Please contact Aida Sarvan at 312.527.7933 or asarvan@themart.com with requests or questions.
In addition, you will receive an e-mailable version of the Complimentary Pass that you can forward to your customer e-mail lists. You will receive this email on Tuesday, April 4.
ONLINE MARKETING OPPORTUNITIES
Online Banner Ads
We have created online banner ads which you can copy and paste onto your website and other online communications.
120×120


160×600


300×250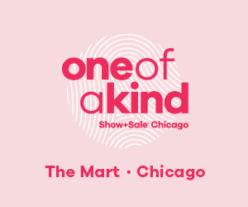 728×90

E-mailable Complimentary Pass to the One of Kind Spring Show Chicago
On April 4, the One of Kind Spring Show team will be sending you an e-mailable complimentary pass that you can forward to your e-mail lists.
E-blast Campaign
We are in the process of sending out a series of e-blasts about the show to our database of consumer e-mails. Each time we send out an e-blast, we will also e-mail them to you. We encourage you to forward them on to your e-mail lists.
Artist Locator
The Artist Locator allows users to search and view information and images from each artist in the show. This function is live on the One of Kind Show website. Please take a look at your information and the images listed and if you have any changes, please visit the Online Exhibitor Profile.
MEDIA AND PUBLICITY
We are thrilled to have Henson Consulting as our PR firm for the 2017 One of a Kind Spring Show Chicago. In addition to promoting the overall event, our PR team is interested in hearing about you and your work. Please contact Brooke Maher about anything that might be newsworthy at bmaher@hensonconsulting.com or 312.374.8580.