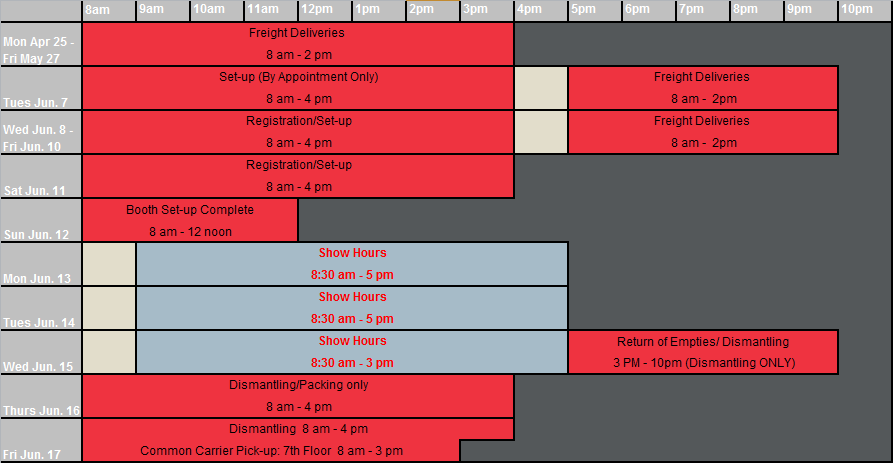 FREIGHT DELIVERY HOURS
Monday, April 25 – Friday, May 27 ($74.50 per cwt) : 8:00 a.m. – 2:00 p.m.*  Tuesday, June 7 – Friday, June 10 ($79.50 per cwt):  8:00 p.m. – 2:00 p.m.*      
* Shipments will not be accepted on weekends during this period.
FREIGHT DELIVERY PROCEDURE – ALL shipments, prior to show and during move in MUST be delivered to the warehouse.   Shipments will be received between the hours of 8am-2pm and not during the evening as in previous years.   Any carriers arriving at the Merchandise Mart Dock will be redirected to the warehouse.   Shipments received June 7- June 10 at the warehouse by 2pm will be delivered to your booth by 8am the following day.
SET-UP HOURS
Monday, June 6: Floor closed
Tuesday, June 7: By appointment only.
                *Email Sergio Camargo at: scamargo@mmart.com
Wednesday, June 8 – Saturday, June 11: 8:00 a.m. –   4:00 p.m.
Sunday, June 12: 8:00 a.m. – 12:00 p.m.
SHOW HOURS
Monday, June 13: 9 AM to 5 PM
Tuesday, June 14: 9 AM to 5 PM
Wednesday, June 15: 9 AM to 3 PM
DISMANTLING HOURS
Wednesday, June 15: 3:00 p.m. – 10:00 p.m.
*Return of Empties and Packing Only.
Thursday, June 16 : 8:00 a.m. – 4:00 p.m.
*Packing Only – All bills of Lading must be turned into the freight desk by 3:00 p.m.
Friday, June 17: 8:00 a.m. – 3:00 p.m.
*Freight Pick Up – 7th Floor
Carriers must be checked in by 2:00 p.m.  The floor will remain open until 4:00 p.m. for packing.
METHOD OF PAYMENT
All exhibitors MUST submit the Method of Payment form by May 1, 2016. NO services, including freight delivery, will be provided without this information.  Method of Payment Form.
BOOTH PACKAGE
A typical booth is approximately 10′ deep by 10′ wide.  Each booth varies with location. Back walls and sidewalls are 7'10" high in booths on 7.  Dimensions may be requested by calling (312) 527-7587.  *Please Note:  Ceiling height restriction of 7'-10' and columns within most booths
Each booth includes gray carpet; a 120 volt, 150 watt duplex electrical outlet; a 1'x4′ fluorescent ceiling fixture; four 75-watt halogen track lights, and an 8 ½ " x 14" sign. Please note that your booth is not equipped with any tables and chairs.
Note: Back walls are not included in booths located along the windows. Any booth design that may block the site line of another booth must be approved in advance by Show Management.
CUSTOM BOOTH DESIGN/CONSTRUCTION
Show Management / MMPI can assist with the design and construction of your booth at NeoCon.  Below is a list of some of the services we provide:
Flooring: Custom Carpet, Masonite Sub-Floor, Installation of carpet tiles and specialty flooring, production and installation of platform flooring.
Drywall:  Custom drywall panels to create a seamless wall or additional walls with the booth space.   Additional office space or storage closets can be built within the booth space utilizing existing wall panels or drywall.
Paint:  Custom painting is available along with wallpaper installation and seamless paper. (Please provide paint color and paint number Benjamin Moore or Sherwin Williams.
A quote will be provided by MMPI that must be approved by the Exhibitor before the production of the custom work starts.  Please fill out the Custom Booth Design Construction Form.
BOOTH EQUIPMENT | LIGHTING | BOOTH CLEANING
If you require additional lighting (track lights, additional wattage in the duplex outlet and additional custom electrical services), tables and/or chairs, or additional cleaning services (Booths will be vacuumed prior to the show at no charge) please complete the Booth Order Form. For questions regarding these services, call (312) 527-7587.
SERVICE DESK 7th FLOOR
The staff at the Service Desk, located on the 7th floor, can help you in placing orders for Labor, Paint, Equipment Rental, Electrical, Housekeeping, Material Handling, Drayage, Shipping and Freight.
Note: All exhibitors MUST stop at the SERVICE DESK on the 7th floor at the end of the show to collect a final receipt and Bills of Ladings for outbound shipping.
FURNITURE RENTAL
Additional furniture rentals are available through Cort Trade Show Furnishing.  Please visit their website at www.corttradeshow.com for additional information.
BUSINESS CENTER
The Exhibitor Service Desk offers BASIC business services including photocopying and faxing.  FedEx Office Print and Ship Center is located on the Second Floor of the Merchandise Mart for color copies, digital printing, signs, banners, business cards, packaging and shipping. Mon-Sun 12:00AM – 11:30PM (312) 755-1088.
Click here to continue to the NeoCon Forms (includes booth and vendor forms).  Please observe deadlines listed on individual forms.