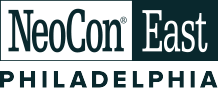 GENERAL INFORMATION
Now, in its 15th year, Merchandise Mart Properties, Inc. (MMPI), the producers of NeoCon® presents NeoCon® East on November 15-16, 2017 at the Pennsylvania Convention Center (PCC).  This show is the East Coast's regional conference and exposition for commercial interiors.  NeoCon® East showcases over 250 exhibits, more than 30 educational seminars and association events for almost 7,500 A&D professionals.
NeoCon® East unites the dynamic design community of the East Coast with resources that create two days of events and programming including those hosted by AIA Philadelphia Chapter, IIDA and ASID.
---
CEU EDUCATIONAL SESSIONS:
There are more than 30 one-hour sessions for the educational portion of NeoCon® East.  Each session is CEU accredited for interior designers and architects.  MMPI will file your seminar, along with the complete NeoCon® East conference package to industry associations for CEU and LU accreditation.  CEU paperwork is available for attendees at the seminar room and will be stamped by door monitors at the end of each session. As a presenter, you are eligible for a CEU stamp at the end of your presentation.
The following will be available to attendees:
Interior Designers earn 0.1 CEU for each session they attend.
Architects earn 1 LU for each session they attend.
Lighting Certified Designers earn 1 LEU for each 60 minute lighting session they attend.
Government focused seminars offer a 1 CLP for each seminar attended.
LEED Professionals can self-report for each Green [GR] seminar they attend.
---
PREPARING YOUR PRESENTATION   / ON-SITE LOGISTICS
PLANNING YOUR PRESENTATION:
Please plan your presentation for 60 minutes including a brief time for Q&A. All seminars must be presented within one hour and should start and end promptly.  There are seminars that will take place in your room before and immediately following your presentation.
If you are planning on using power point for your presentation, you must bring your laptop (PC or MAC) with your presentation ready to go. There are NO laptops available on-site.  An Audio Visual (AV) Tech will be on- site and available to help set up your laptop and get you started. Information on ordering the equipment you will need for the show can be found on page 9 of this packet.
Internet access is not perfectly reliable throughout the Convention Center, therefore, please do not rely on this service for your presentation.
Handouts can be very helpful for the attendee. If you wish to provide a handout or presentation materials, please contact our office early October so that we can give you a pre-reg head count for the number of registered attendees for your session. More information on this can be found on page 8.  Please forward a copy of your handout to me for our file.
ON SITE LOGISTICS:
Upon arrival to NeoCon East®, all speakers must check-in at the Speaker Ready Room 120C. Please see page 6 for details.
Speakers may access their seminar room 30 minutes prior to their presentation. A Door Monitor will be in the room to assist you, as well as check-in the attendees and distribute your handouts, the evaluation forms and CEU materials provided by MMPI.  An AV Tech will also be on-site to assist you.  Remember – not everyone has the same level of hearing.  Please use the microphone for all to benefit from your presentation.
All Rooms are set theater style to capacity with a stage, podium, microphone, screen, and LCD projector. See page 9 to order request your AV needs.
Following your presentation, the Door Monitor will collect seminar evaluations from the attendees and return them to the Speaker Ready Room. We will compile the evaluations and will maintain a copy on file for CEU credit requirements.  All speakers will receive a copy of their seminar evaluations within 30 days of the show.
QUESTIONS?   Please contact Monica DeBartolo at 312.527.7055 or
---
AIRFARE AND HOTEL ACCOMMODATIONS FOR ELIGIBLE SPEAKERS
* ELIGIBLE SPEAKERS- for Reimbursement
Eligible speakers are those speakers who DO NOT represent the media, a publication, a manufacturer or an exhibiting company.  Merchandise Mart Properties, Inc. (MMPI) will pay (through direct billing) the eligible speakers' travel accommodations.  Eligible speakers will be reimbursed for one night's lodging. In addition, MMPI will reimburse eligible speakers for ground transportation, up to $140.00 provided they follow the guidelines outlined on this page and submit the Hotel/Transportation Expense Form on page 12 of this packet.
AIRFARE:
The NeoCon® East Official Travel Agency, OnPeak, will coordinate your travel needs and direct bill MMPI for all eligible speakers*.  You must book your travel by Monday, October 16, 2017.  To book your air travel, please complete the travel form located on page 10A of this packet and email it to jinny.faye@onpeak.com  Note: Voluntary changes to your airline reservation after ticketing are subject to an exchange fee imposed by the airline and are the responsibility of the traveler.  This includes any cancellations that are not reported to MMPI Travel Services/OnPeak.
HOTEL:
A block of rooms have been reserved for NeoCon® East speakers.  All eligible speakers will receive one comp night or will be billed directly. If you are billed, MMPI will reimburse all eligible speakers for one night's stay (per speaking day).  You may, of course, stay at your hotel more than the one night and MMPI Travel Services will be happy to make those arrangements for you.  Please have your credit card ready when making your reservation to guarantee late arrival.  You must book your hotel by Monday, October 16, 2017, through MMPI Travel Services/OnPeak to receive reimbursement for your accommodations.  To book your hotel, complete the enclosed hotel form, located on page 10 within this packet, and email the form to speakervip@onpeakevents.com or jinny.faye@onpeak.com .  See hotel list on page 11.
Room assignments are pre-booked at the discretion of the housing department in conjunction with Merchandise Mart Properties, Inc. (MMPI), and all efforts will be made to keep you and your co-presenters (if any) at the same hotel.
NeoCon® East Exhibitors, Manufacturers and Industry Publications
Although you are not eligible for complimentary travel and hotel accommodations, we hope you will take advantage of the services provided by our Official Travel Agency, MMPI Travel Services/OnPeak.  By booking your accommodations through MMPI/OnPeak you will receive a discounted rate on hotels.  You may complete the hotel/travel form on page 10 of this packet and forward it MMPI Travel Services/OnPeak at speakervip@onpeakevents.com or call 1-800-803-6903.
---
PROMOTING YOUR SPEAKING ENGAGEMENT
NeoCon® East is a wonderful opportunity for you to invite colleagues, clients and friends to join you as your guests.  It is your chance to stand out amongst the who's who in the industry and share your work and expertise in the field. We understand that your time is valuable, but here are a few suggestions to help you promote your speaking engagement at NeoCon East:
Send a personal email to your contact list of friends, colleagues, current and potential clients. Be sure to copy us at mdebartolo@mmart.com.
Link your website to the NeoCon East website. neoconeast.com
Forward the NeoCon East HTMLS, created by MMPI, to your colleagues and associates.
Interact with us on our various platforms: Facebook, Twitter, and Instagram. We encourage you to use these outlets as a tool to spread the news about your presence, promotions & products at NeoCon East. The official hashtag is #NeoConEast2017(please add this to your posts so that your content is included in the show's social media stream).
---
REGISTRATION/ BADGES /GUEST PASSES
REGISTRATION:
In the next few weeks, you will receive the marketing mailer for NeoCon® East 2017.  This mailer will direct our audience to the official NeoCon® East website for full descriptions of the programs, events, concurrent association forums and registration information.  As a speaker you are automatically registered for the expo and educational portion of our show and will be provided with a speaker badge on-site in the Speaker Ready Room. 
BADGE INFORMATION:
As a NeoCon® East Speaker, your name badge will have a speaker ribbon on it, allowing you admission to the exhibit hall and other program sessions, provided there is room available in the session.  Your badge will have your name, title and company on it.  If any of the information you have provided to us has changed or if you want to double-check spelling, etc. please contact Monica DeBartolo at mdebartolo@themart.com.
The first thing you will need to do when you arrive at the Pennsylvania Convention Center is pick up your name badge in the Speaker Ready Room 120C at the Broad Street Entrance.
SPEAKER READY ROOM 120C:
The Speaker Ready Room at the Pennsylvania Convention Center is set for your use throughout the two day conference.  This room is a resource for you to meet with other panel members, to rehearse your presentation or enjoy a snack and just relax before or after your session.
You will need to check in at the Speaker Ready Room one-hour prior to your session.  More detailed information on the location of the Speaker Ready Room at the Pennsylvania Convention Center will be forwarded to you in the coming weeks.
The Speaker Ready Room will be open:
Wednesday, November 15            –           7:00 a.m. – 5:30 p.m.
Thursday, November 16                 –           7:00 a.m. – 5:00 p.m.
GUEST PASSES:
Also, as a speaker, you may bring your guests (co-worker, boss, spouse, etc.) to your session.  You should make sure your guests are registered for the show.  You may register your guests on-line at www.neoconeast.com.  Two guest passes will be made available to you in October. Please let us know if you would like additional guest passes by October 1st.
Ground Transportation Expenses
As outlined in the Speaker Agreement, MMPI will also provide ground transportation (cab fare and parking) reimbursement for eligible speakers to and from the Pennsylvania Convention Center (from airport, hotel or local office) up to $140.00.
For transportation reimbursement, save your original receipts and submit them along with the Expense Form on page 12 of this packet to Monica DeBartolo by November 30, 2017
Ground Trip Mileage:
If you are within driving distance of The Pennsylvania Convention Center or have traveled by car to NeoCon East, MMPI will reimburse you .55 per mile, plus parking.  This reimbursement amount includes rental car and gas.
---
BIO / HANDOUTS
BIO:
In an effort to promote the NeoCon® East speakers, we encourage you to send us your professional bio.  All bios received by September 18 will be included in a packet that will be made available to Press members pre- and post-show.  Please comply with the following guidelines when submitting:
Submit a brief, 1 page maximum bio with information you deem appropriate.
Include a photo of yourself. Bios with a photo must remain within the 1 page maximum.  No exceptions will be made.
Include your contact information such as address, phone, e-mail and/or Web-site address.
Send your bio as an electronic file such as a Word document or PDF file to: Monica DeBartolo at mdebartolo@mmart.com.
Questions? Call 312.527.7055
HANDOUTS:
We strongly encourage you to bring handouts and/or materials to distribute to attendees during your session. You may contact us at 312.527.7055 or mdebartolo@mmart.com two weeks prior to the show to get the pre-registration numbers, an estimate count of the number of attendees that signed up for your program.  This will help you in planning the number of handouts you need to bring with you.  We cannot accept your handouts prior to the event and we do not reimburse you for copies.
We will also maintain a copy of your handouts on file for Conference Proceedings.